Feature Tokens
On this page I will feature different tokens that I feel are either difficult to find or are exceptional in condition. This 1st token fills both categories.
1971 Caesars Palace $.50 token
I have been to the past 8 National Casino Chip & Gaming Token Convention and shows in Las Vegas and have not been able to find these tokens for sale.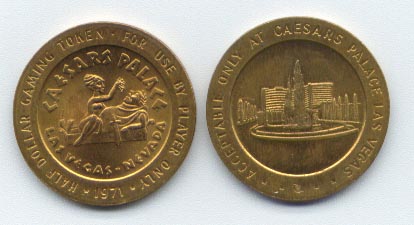 This is a uncirculated $.50 token from Caesars Palace Casino in Las Vegas, Nevada. This token was minted in 1971 by the Welling Mint Company. In spite of federal prohibitions, this was the last attempt made to make a $.50 token. This token is a must for every avid token collector to complete their collection. The price for this token is $225.

Proof 1966 Harvey's Casino Token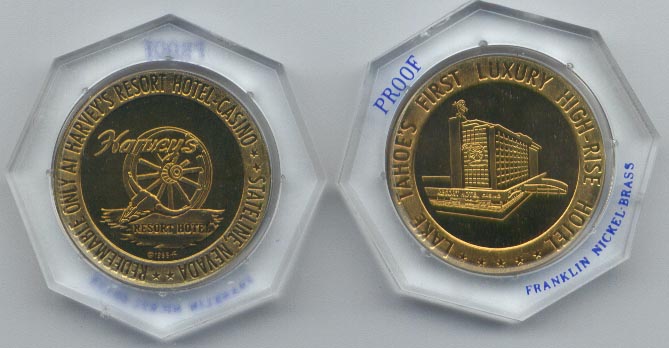 This token was issued in 1966 to the Harvey's Casino located at Lake Tahoe, Nevada. This is a alloy Franklin Nickel - Brass Proof issued in this plastic individual coin holder by the Franklin Mint Company. The picture shows both sides. The coin has never been out of the container. This token is a proof and is in excellent condition. The price is $10.00.

Lady Luck Silver Commemorate Token
This is a Lady Luck Casino/Hotel 25th Silver Anniversary 1964-1989 Las Vegas, Nevada .999 Fine Silver Token. This is the size of a silver dollar and is in excellent condition.
These were given to casino players during their 25th Anniversary Celebration in 1989. If you don't have one of these tokens in your collection, now is the time to get one!! The price for this token is $50.

1988 Virginian Casino Token
The Virginian Casino located at at 140 N. Virginia Street was owned by The Sundowner Corporation. The property opened in 1988 and became a 'slots only' casino in mid 1996 until it closed in 1997. Currently this casino re-opened in 1999 with 126 hotel rooms and is being leased to the Club Cal-Neva. The property is now known as the Club Cal-Neva's Virginian.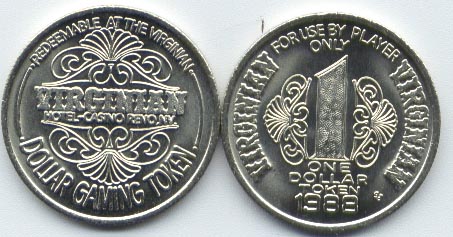 This is a $1 token from the Virginian Hotel & Casino in Reno, Nevada. This token is uncirculated with a proof-like surface. The price for this token is $8.

1983 Old Vegas Token
The Old Vegas Casino was located at 2440 S. Boulder Highway in Henderson, Nevada. Opened in 1979 on 128 acres, under the name of West World but less then 2 years later changed to Old Vegas, to coincide with the company's other amusement park in Arizona, named Old Tucson. Old Vegas Theme Park and Casino, was a Hollywood styled reconstruction of an Old West town that offered make-believe gunfights, saloon brawls, running steam train and stagecoach, Texas-sized hot dogs and western style trinkets. All inside a make-believe Western Fort. Old Vegas closed in 1986 and was torn down in 1996.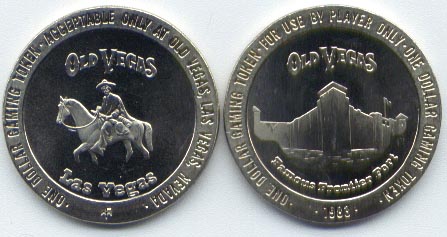 This is a 1983 $1 token from the Old Vegas Casino in Las Vegas, Nevada. This token is uncirculated with a proof-like surface. The price for this token is $8.

65 Cactus Pete's Token
My special this month is a 1965 $1 Slot token that was made for the Cactus Pete's Casino located in Jackpot Nevada by the Osborne Coinage Company of Cincinnati, Ohio.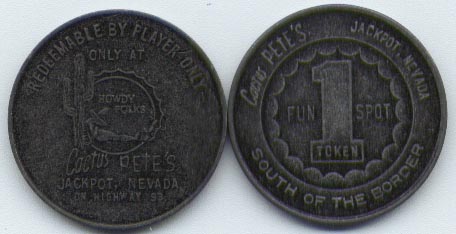 These tokens have silver highlights that have darkened with age. They were struck from an alloy metal called Silveen. Most of the tokens that were made in 1965 for the different casinos by Osborne Mint were made out of this material. Beginning in 1966 many casinos had new tokens made by the Franklin Mint out of nickel alloy metal. Tokens that had been made out of Silveen were recalled and destroyed by the casinos. The few remaining have increase in value over the years and are hard to come by. I have only a couple that I will be selling this month for a special price of $35.00! These tokens are a little darker in color then the scan shows but are in very good shape. Please feel free to contact me if you have any questions.

For more information or to purchase anything from this page contact me by clicking on the mailbox below.